The Alta One Little Giant Ladder
The Little Giant Ladder is capable of up to 33 different configurations. It literally is five ladders built into one. If you own a home, or if you're going to do any kind of home improvement or repairs, then you need to own the Alta One Little Giant Ladder.  The Alta One Little Giant Ladder is  a scaffold, step ladder, extension ladder, and frame ladder all rolled into one. The Little Giant ladder is truly one awesome  ladder. It is safe, very versatile, and extremely strong. On top of all that, it is made in the USA. Let's explore the features and benefits of the Alta-One by Little Giant Ladder Systems.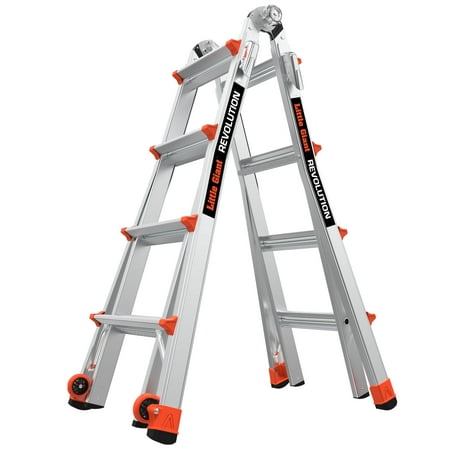 Little Giant Ladder Features
Tip and Glide Wheels
First, the Alta One Little Giant ladder is extremely light. In fact, this little giant ladder is the lightest multi-use ladder you will find. The Alta One is very easy to move around for two main reasons. Aside from being very light, the Little Giant Ladder comes with tip-n-glide wheels. These wheels mean that you don't need to carry the ladder. Just tip the Little Giant ladder and roll it to where you're going to use it.
How to Open and Adjust the Little Giant Ladder
Press the buttons at the top, which allow you to open up the ladder.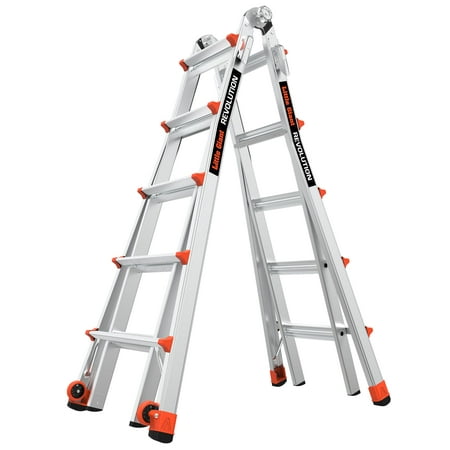 Multifunctional Little Giant Ladder
Telescoping Ladder
To telescope the little giant ladder, pull the pins on the side, and tip the little giant ladder away from you. You can stop that at four, five, six or seven feet. Do the same thing on the other side.
Scaffold
That's going to give you a two-sided A-frame ladder that's rated at 250 pounds per side, so you can have two people on the ladder at the same time.
Corners
If you're going to work on corners or up against a wall, simply drop one side down into the 90-degree position.
Staircases
If you need to work into staircases, adjust the ladder into the staircase position, and work safely up and down a staircase.
Roof
Now if you're gonna go up onto a roof, push the hinges again, rotate that top around, and then lean it against the house and extend the rest from the bottom.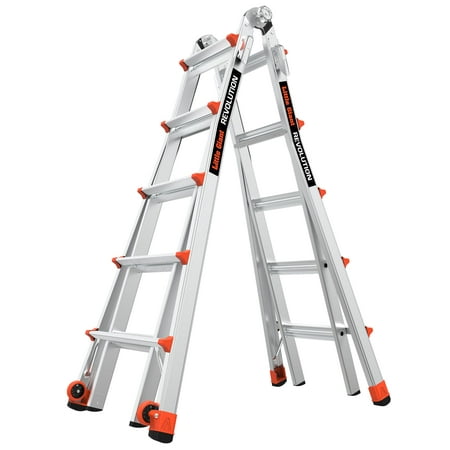 Extension Ladder
That gives you a 22-foot extension ladder from that four in a half foot storage height. To bring it down, just reverse the process. Push those hinges, and let that rotate around.
Trestle
If you remove the center of the ladder, the inner section, it has its own rubber feet, that's going to give you a four foot trestle. Then take the outer halves and turn them so they're both facing the same direction, and lock the front one into the holes of the rear section and then spread those apart. That's going to give you your second trestle. All these rungs lineup, that's giving you up 1, 2 or 3 foot scaffolding or a four foot work bench.
Testimonials
Here's what one satisfied customer had to say about the Little Giant ladder.
"This ladder is lighter and more durable than any other ladder I have ever had. I have been inspecting homes for 13 years and have used four ladders, but now I only need one. Easy to adjust height once you get the hang of it. Ladder is rated at 250lbs, so I would not recommend it for heavier users (I weight 165 lbs). Great price, great ladder and easy to tote around."
And this is what Skippy had to say.
"I already have 5 ladders for use around my home but while building a gable roof over my deck, I ended up borrowing one of these Little Giants. I liked it so much, I bought one. It is incredibly sturdy and adjusts in several ways. It works well as a step ladder or an extension ladder and is more stable than any of my other ladders. I've used it on stairs by itself and on uneven surfaces with the optional leveling extensions.

Note that this Alta-One ladder is a little heavy, but it is lighter than the standard Werner version like this sold in the stores. It will not blow over in a gust like my lightweight 9ft step ladder will, and it just feels solid. Another bonus is that you can climb up either side when it is set up as a step ladder. You can also break it into two ladders for supporting up scaffolding. If you only want to store one ladder and still want a lot of versatility, this is probably a good choice. If you already have a short (lightweight) stepladder and a long extension ladder (to get to a third story roof) , this would make an excellent addition to your garage."
Little Giant Ladder Summary
This one ladder gives you multiple sizes of A-frame, a 90-degree position, a staircase position, an adjustable extension ladder and a scaffold, all in one ladder. The Little giant ladder comes in two sizes -0r the model 17 or the model 22.
Again that's the Alta-One, by Little Giant Ladder Systems..
Click

here for the best online furniture deals on Kids Bedroom Furniture, Bathroom Furniture, Living Room Furniture, Kitchen Furniture, Outdoor Patio, Furniture, and Bedroom Furniture and decor.
As found on Youtube
Grab this awesome ladder on Amazon.